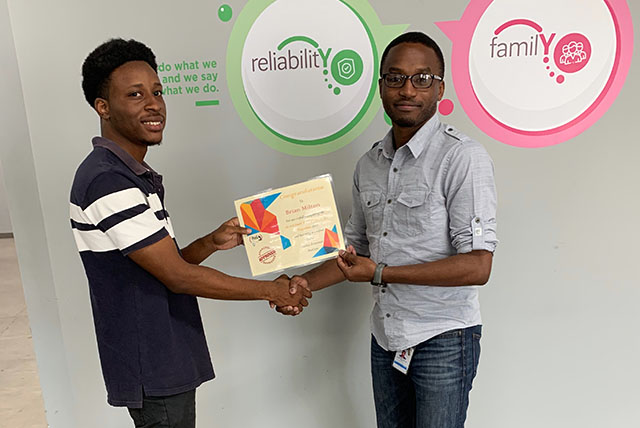 Up to 2018 the Business Process Outsourcing (BPO) industry contributed $1.7 billion to Jamaica's economy and employed some 32,000 people. While a majority of employees in the industry are customer service or sales agents, others have been able to successfully advance along career paths that lead to managerial and support roles.
At itelbpo, the possibility of advancing from an agent to operations supervisor, or trainer, or quality analyst is not left to chance. Rather, it is a carefully curated process, known as career mapping, in which agents are invited to participate and take advantage of opportunities for online and peer-to-peer training.
"Our learning paths are a combination of e-learning modules which are self-paced and instructor-led classes that are created by itel SMART Academy," itelbpo's head of training & development, Shurland Buchanan, recently disclosed.
"We also have peer-to-peer training embedded in the learning path, which is feedback from people who graduated from the programme and believe it has added value to them," he added.
Buchanan, also the head of the BPO's training arm, itel Smart Academy, explained that in order to successfully navigate any learning path, agents must be willing to "subscribe" to the curriculum and work alongside a mentor. In fact, among the training paths offered, he informed that the two most prominent are the Jr Quality Analyst (QA) and Jr Trainer programmes.
Describing the Jr QA programme, the head trainer said it is a combination of compliance, data analysis and coaching. "It's the most intense because it's a well-rounded programme that is the starting point for people to hone their skills, and from there some have even segued into other learning paths."
Lasting about six weeks, the last installation of the Jr QA programme took place between March and May earlier this year. Over 200 agents applied with 130 being shortlisted. Of that number, three participants in Freeport, Grand Bahama — Davinia Armbrister, Sheena Lightbourne, Shannon Porter — were promoted on July1 to customer experience coaches, a title which replaces quality analysts.
TOP PERFORMER
Brian Milton, the top performer from itelbpo Montego Bay, has also been promoted to being a customer experience coach.
"This year's Jr QA programme has truly been an enlightening, exhilarating and self-fulfilling
experience," Milton said of the training. "The opening stage proved to be both helpful and insightful, as it introduced me to the various quality management systems and the skills required for the role of a QA. I would therefore recommend the Jr QA programme to anyone as it was a very thorough and fulfilling experience, and when I was promoted, the role was nothing new as I was already provided with all the skills, I needed to be successful."
Individuals who have graduated the Jr QA programme can subsequently transition to training for customer experience supervisor and customer experience manager.
Like the Jr QA programme, the Jr Trainer curriculum marks the start of a three-tiered career path which also includes Sr Trainer and Training Manager. Also, a six-week training, the programme received over 90 applications, with only one candidate, Monekelya Sommerville from itelbpo Montego, being promoted to an open Jr Trainer position.
Sommervile expressed satisfaction with the programme, though admitting that at first, she was sceptical, and today proudly boasts being named as a member of the training and development team.
Speaking on the demands of the Jr Trainer programme, Buchanan stated: "For the trainer role, you are responsible for the trainees' success, so it's going to require a little bit more assertiveness, which some people don't have, to exercise class control. So, all the skills you have acquired as a coach, you now have to use to lead a cohort."
The head of training revealed that itelbpo is currently revising its learning paths with a view to add more training for support roles in the People Success, Operations, and Workforce Management departments.
Asked if the knowledge gained from these trainings can be transferred to other companies and industries, Buchanan quipped, "It is knowledge gained that cannot be taken away."