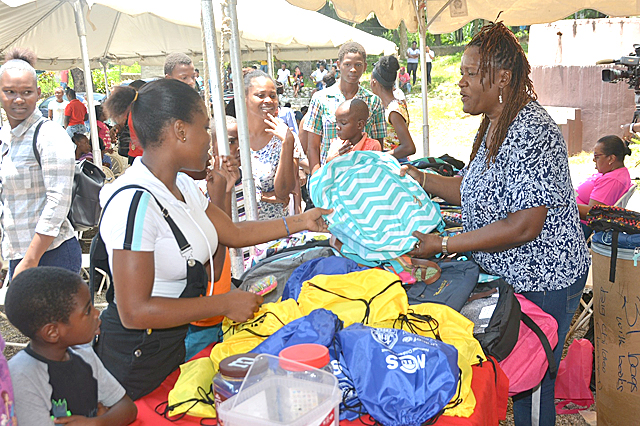 The Child Protection and Family Services Agency (CPFSA), through its parenting workshops, is empowering parents in Western Jamaica to build stronger bonds with their children.

Director for Alternative Care Services at the CPFSA, Eunice Scott-Shaw, says that the workshops aim to provide parents with critical child-rearing skills.

Among the objectives are to instill a greater sense of care and responsibility among parents; improve communication between parents and children; and address behaviourial problems at home in order to prevent children from entering State care.

"We have a lot of children who are really in need of care and protection, and we want parents to be more responsible for their children. We would not have so many children in State care if parents had taken the responsibility to care more for their children," Mrs. Scott-Shaw said.

She noted that during the 20-hour training sessions, parents are equipped "with some parenting skills, so that they can work with the children. Sometimes, we ask the judges that when parents come to court with their children who are uncontrollable or in need of care, that they would allow them to come and take this course".

Mrs. Scott-Shaw, who was speaking to JIS News at a back-to-school treat and health fair held recently at the Holly Hill Infant and Primary School in Darliston, said that parents are receptive to the training.
"Sometimes, the parents are so young; some are children themselves, and they did not get that level of training or they have no skill sets to work with the children that they have. So, for the services that we offer, the parents are very happy for it," she said.

'CAN I TRY AGAIN?'
"I can recall a situation where we had a child who came in to care. The child was picked up by the police, and the mother went to the CPFSA office to see if she could get any information about her child. While she was waiting on the social worker, a parenting training was going on and the officer asked her to go sit in and see what is happening. She went and sat in there, and when the session was over, she said, 'Can I take back my child and try again?'" Mrs. Scott-Shaw related.

Maureen Mullings of Burnt Savanna in Westmoreland, who has been receiving support through the CPFSA for her teenage grandson for more than two years, relates that the agency has not only aided her with parental training but finances, counselling and more.

She said that the CPFSA office in Savanna-lar-Mar is currently assisting with getting her grandson enrolled in the Programme of Advancement Through Health and Education (PATH).

"They have been of good help; they took him in and counselled him. They keep checking up on him," she added.

Darliston resident, Ervin Reid, who attended the back-to-school fair, said that the agency's services are very important "because they help a whole heap of people".

"A lot of younger mothers do not have the resources to help their children and the services provided by the CPFSA are very important," he noted.