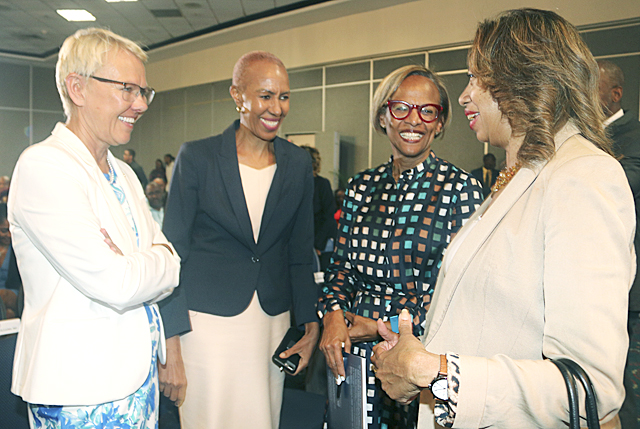 COJ launches Electronic Business Registration Form (eBRF)
Entrepreneurs wanting to start business in Jamaica will now have the option of doing so at their own convenience with the launch of the Companies Office of Jamaica's online platform, the Electronic Business Registration Form (eBRF).

The eBRF will convert the paper business registration form into an electronic version, and will allow business operators to register their business name and company from wherever they are in the world and from the convenience of their home.

For persons without Internet access or a computer, the COJ will have kiosks set up at Tax Administration Jamaica offices, at the Companies Office of Jamaica and the Jamaica Business Development Corporation office.

Speaking at the launch at The Jamaica Pegasus hotel in New Kingston on August 7, Industry, Commerce, Agriculture and Fisheries Minister, Audley Shaw, under whose portfolio the COJ falls, informed that the launch of the eBRF represents the first online business name registration platform in the Caribbean.

"This is a major achievement for the COJ and Jamaica on a whole towards the modernization and transition to offering world-class service to our clients. The ability to register easily as part of the ease of starting a business is a significant initiative heading in the direction of getting more formality in the economy," Minister Shaw said.

FOCUSSING ON CRITICAL AREAS

Minister Shaw added that the Government is committed to further improvements in the business environment and that we have to continue the momentum and focus on other critical areas such as the cost and ease of paying taxes, and trading across borders.

"We cannot become complacent. We are committed to working with all stakeholders to improve our business environment, create more jobs, and make our country the place of choice to live, work, raise families and do business," the Minister added.

Meanwhile, Prime Minister Andrew Holness, who gave the keynote address, commended the work of the COJ. He noted that the Government is moving in a very deliberate way to integrate technology in its daily operations.

"This agency of Government has led by example by being one of the first agencies that has embraced the use of technology, and has re-engineered its business process to improve its efficiency. We are now on the upswing of the digital era. Let us take advantage of it. Let us embrace it. Let us not fear it," the Prime Minister added.

The eBRF is a project of the Companies Office of Jamaica and the Office of the Cabinet, implemented under the Public Sector Transformation and Modernization Programme, with funding from the Inter-American Development Bank.