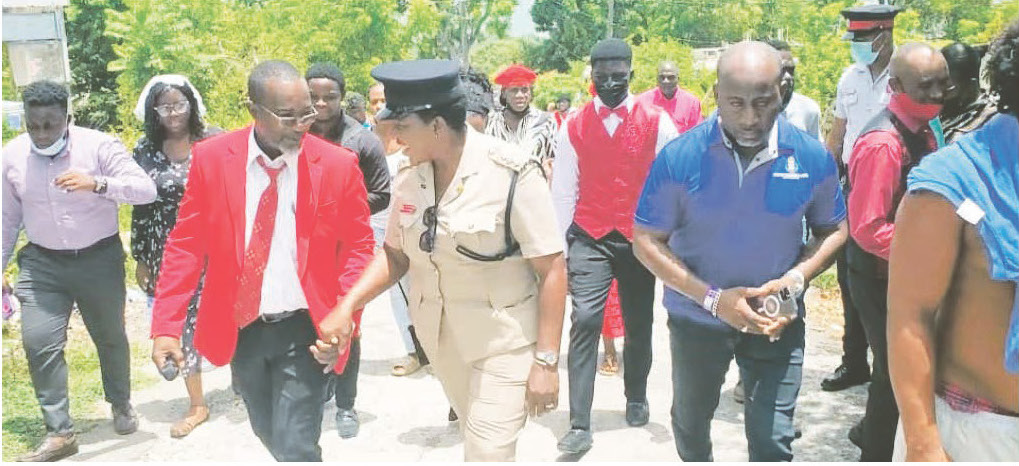 The Community Safety and Security Branch of the St. James Police collaborated with the Pastor and members of the Triumphant Holy Church of the Living God for a spontaneous peace walk-through in the troubled Salt Spring community on Saturday.
Angella McIntosh Gayle, Deputy Superintendent of Police in charge of the Community Safety and Security Branch of the St. James police explained that the peace walk was aimed at impacting the community positively and spreading the message that the police are not the enemy of the people but their friends.
"Crime has reached epidemic proportions in St. James, where we have recorded 105 murders since the start of the year. It cannot be that we are always on a crime scene we need to go in and speak to the young men and guide them so we are here with the church in this instance, so this intervention is to go into the community as we try to reach the unattached youth, those not attending school and invite them to return to school".
DSP McIntosh further explained that the police have also partnered with the HEART Trust NSTA, as they seek to host a homework programme as well to assist students.
Desroy Brooks – Pastor of the Triumphant Holy Church of the Living God says while the move was impromptu it was welcomed and was something that had already been done by the church.
He said, however, that partnering with the police was a positive signal to the people and the youth in particular that the police are not forces of evil, adding that if the young men abide by the law of God and the law of the land things would be much better.
"We are glad for the officers doing this so the people can see that they are not elements of destruction and mayhem but are here to help them and the children; we should not see them as enemies but as friends working together for the betterment of the community. We need to reach people in the community to make a change – we are crying to the people to make a change both young and old" Pastor Brooks said.
For elderly resident, Isadora Robinson, the peace walk was good because it showed that the police love the church and the community and want to see the best for the people.
"We give God thanks because they come to show that they love us we ask the young men to be peaceful. I would like them to get in a relationship with Christ before probation close because probation is about to be closed. Some will come to the knowledge, so let us try to see if we can tame them.
So many young women in the church want a husband – all the young men who nuh dead off, in prison, but Jesus say seek ye first the Kingdom of heaven then all things will add to you – please look to Jesus."