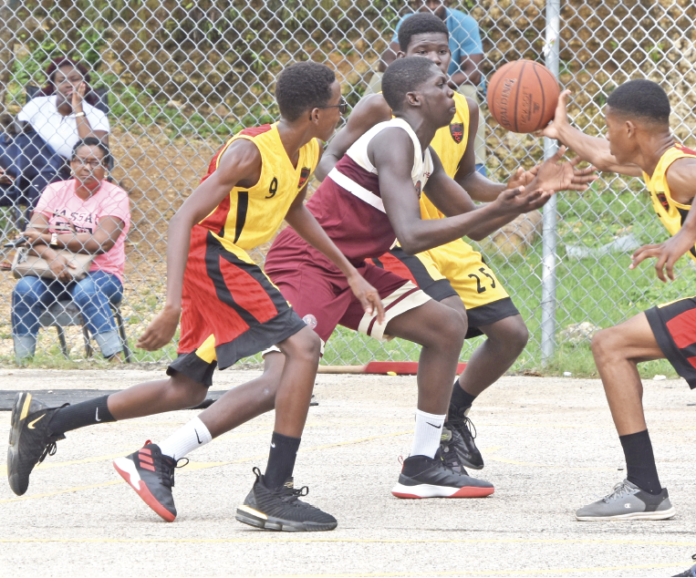 Oh how the tables have turned and for the first time in over eight years, Cornwall College got the better of their bitter city rivals Herbert Morrison Technical High (HMTHS) handing them defeat in a basketball showdown.
In a very scrappy and unattractive affair, Cornwall College beat 'Compre' 35-31 in a low-scoring match in the ISSA Western Conference Under-15 Basketball competition played at the start of the weekend (Friday, May 20) at Cornwall College.
The victory was the first at any level for Cornwall College over their city rivals (Compre) since 2014 and before 2012. Playing before a sparse crowd but with a very vocal and charismatic coach, Paul Reid, the slowest player on the court,
Matia Williams led the charge for the red and gold unit with 24 points, 5 steals and 3 rebounds. He was supported by Janathan Doye with 6 rebounds and just two steals to go with his mere two (2) points.
For the Herbert team, suffering a rare defeat, Kamau Dennis just missed out on a double, double, ending with 13 points and 8 rebounds while affecting three (3) steals and had two (2) blocked shots.
The diminutive Joshua Furguson, who won the Under-19 title with 'Compre' earlier in April, looked a shadow of himself but managed to end with 11 points and six (6) steals, dropping off just three (3) assists.
Despite a slow start by both teams, Cornwall College looked the more organized and managed to sneak a close 7-6 lead going into the second quarter. The
Cornwall College team, which tallied the only double-digit quarter score of the encounter, collected 13 points opening up a 20-15 advantage at the halfway stage.
Dave Black coached Herbert Morrison Technical High, HMTHS, recognizing their unblemished record was in great danger, upped their energy at the start of the third quarter and moved to within three points of their challengers, each scoring seven points in the penultimate quarter, Cornwall went 27-22 ahead, going into the final quarter.
Determined to pull off the upset and scoring more regularly than their shot-shy opponents, Cornwall continued their steady scoring in the fourth and final quarter, but despite losing it 8-9, managed to hold on for the stunning victory.
The shocking win was the second on the bounce for the Cornwall College team and lifted them to the top of the standings with a maximum of 4 points, three more than their defeated opponents and York Castle.
Cornwall College goes in search of a third straight win on Thursday, May 26 when they travel to Holland to meet that team beginning at 2:30 p.m.
Herbert's next game comes up on Monday, May 30, when they play York Castle at Yorke.
The top two teams will advance to the June 15 finals.