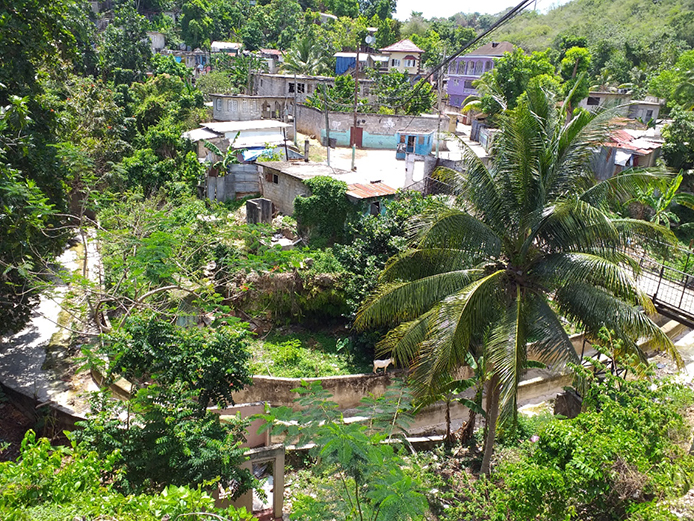 In September 2020 EU and UN-Habitat provided US$100,000 (approx. J$3M) to fund a Participatory Slum Upgrading Programme (PSUP) for the communities of Canterbury, Albion Lane, William Street (North Gully) and Paradise Rowe. This came in light of the coronavirus (COVID-19) outbreak and Councillor Richard Vernon said then, "They have all the tenets to make an outbreak explosive, as such, pre-emptive actions must be implemented and these implementations must have medium to long term implications."

In the short-term, however, the loss of jobs fomented by the pandemic created an urgent need for welfare and UN-Habitat was convinced to help satisfy that need.

Nine months later and in addition to COVID still posing a very serious socio-economic problem, and the health department having to maintain the fight against dengue fever, the current hurricane season has been predicted to be the most active in modern history. This is cause for concern for the people living in this zone, and Cllr Vernon was asked about their level of preparedness.
"The flood that happened in 2017, there are lessons learnt and therefore the persons living there they would have been very much aware and how they should deal with a situation if there is a flooding," he responded.

As is done elsewhere, the PSUP works with the St.James Municipal Corporation in the implementation of their projects.
Cllr Vernon: What they are doing now is the COVID-19 response with the intention to continue with infrastructural development. They are not big fans of care packages and those things; they are more concerned that development is the endgame. The only reason they accepted the proposal that I sent in for the packages is because they understood the justification of the event, the hardship of the time that we were experiencing, and are still experiencing.

PUBLIC HEALTH
Concern for the state of public health in the zone was raised with the St James Public Health Department through Acting Chief Public Health Inspector, Roshaye McFarlane.

CP: I am trying to get some idea of some of the challenges that are faced by public health in inner-city communities. At this point in time, I am looking specifically at that zone that takes in William Street, otherwise known as North Gully, going into Albion Lane, Upper King Street and Canterbury. What are some of the challenges that are faced by public health in this community?

CPHI McFarlane: Those communities, one of the major challenges we have with them is the issue of solid waste management. It's either that they are not serviced by NSWMA or it's just lack on the residents' part, but most times the garbage that is generated by households in those communities end up in the main drain that runs straight through the Canterbury area right down to the KFC area and down to the beach that we just rehabilitated.

That is a significant problem that we have; garbage management all the time and I'm sure persons can agree on this, that the main drain that runs through that vicinity is always blocked up with the garbage that comes out of that community.
CP: I am aware, and I'm not guessing on this, that there was a time when things like faeces were being put in plastic bags and thrown in the gully, is that still being done?

CPHI McFarlane: We haven't had any reports of faeces in the gully for that area but, what I can say is that, you see those areas, it does not have adequate sewerage so persons dig pit for their sewerage disposal but sometimes what we find is that a neighbor starts doing construction down the line from the house and when they're digging it so happens, they are digging into the neighbour's pit so it causes a whole lot of overflow and leakage.

PESTS and FIRE
She said the public health is mindful that garbage breeds pests and of the councillor's efforts to mitigate the problem.
CPHI McFarlane: We went into the area and we were able to do some pest control. Once you have garbage issues in a community then of course you're going to have issues with the pests; the mosquitoes, the rats and so forth.

The houses are basically on top of each other and in the event of a fire there's considerable fear of a possible conflagration should it get out of hand. However, St James Fire Chief Superintendent Dolfin Doeman is confident the department can cope.

CP: What challenge does it pose or would it pose in the event of a fire in that area? You have had to battle some fires from the King Street end but in the heart of that heavily populated community with no roads, how do you describe the challenge you face?

Supt Doeman: We have difficulty accessing houses in Canterbury, North Gully and it's a challenge as our crew may have to create a line of hoses to the fires themselves and though there are challenges, we usually find a way to overcome them. … Our crew members are trained and that's what we are trained for. It's adverse condition so we know that when we get out there, you're not going to find every situation to be ideal but we are prepared.

In May 2018, Plumes of thick, black smoke blanked the skies last Saturday while firefighters withstood the heat to put out another fire at Albion Lane, adjoining the inner-city community of North Gully in Montego Bay. The blaze destroyed two houses, one two-storey and the other a single storey, and left six persons, including two children, homeless. This was the latest of several fires that drove fear of a possible conflagration in in the densely populated community.
NEXT WEEK: The dilemma: Stay put or relocate
Clinton Pickering
Freelance Writer