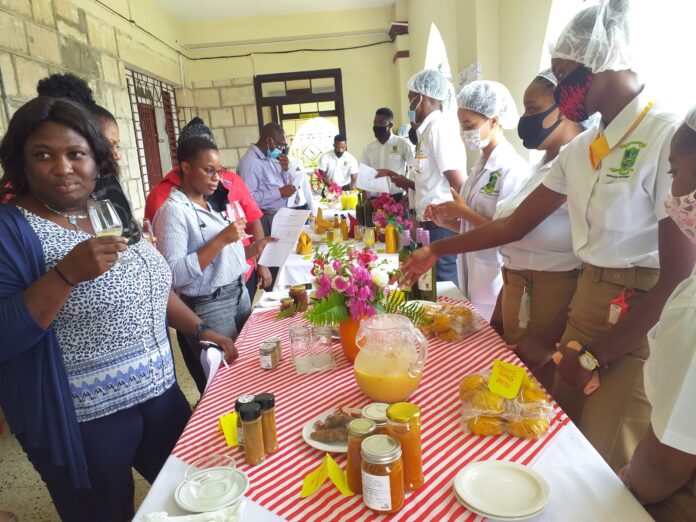 Less than two months of having an agro processing laboratory, the Knockalva Polytechnic College (KPC) in Hanover is preparing to make its presence felt in the consumer market with a range of products.

Students pursuing an Associate Degree in Agro-processing and Business Management on Friday, served notice that they intend to revolutionize Jamaica's agro processing industry with a wide range of products for consumption.

Guided by tutor Murphy Gooden, they spent the last few weeks working on ideas, resulting in a display that was judged by an outside team last Friday. There were over 30 product lines covering wines, punches and juices, jams, sauces, spices and seasoning, breads and cake mixes with more than 90 percent locally produced ingredients.

Principal judge, Rev. Kevin Stewart commented that "All the products are good, they deserve credit. The seasoning is very good, very Jamaican and was tasty. The wines are very good; you could hardly distinguish between red wine and white wine that I've had before so they are up there with others."

Rev Stewart also gave the jams high marks while noting that "one or two could be a little creamier but depending on the material used one could understand." His comment on the baked products was that they "are excellent" as he singled out the breadfruit bread for high commendation. He believed that overall, the students did very well "and all the products are marketable. I think they can stand up against any other product on the commercial market and with a little more assistance I think they can do well."

Principal, Pauleen Reid served notice that the KPC brand would definitely be available to shoppers in the not-too-distant future.
With an anticipation of support from the minister of agriculture, Mrs. Reid said with marketing, "we're going to be hitting the shelves."

Most of the raw materials were reaped off the farms on the 216-acre property that comprises the polytechnic college campus.

Commending the students for their achievements in staging the exhibition, Mrs. Reid spoke of "the passion they have been exhibiting because they took onto this idea and they have been so dedicated, zealous and committed to what they do and they're consistent. When you go into the lab and see them, they are professional in their demeanour."

She observed that the successful outcome in the creation of the products had given the students and entrepreneurial outlook which will be nurtured."

Their tutor, Mr. Gooden disclosed that all products on display were born out of the students' creativity and revealed that they have already created a business plan to take the products from the school to the market.