Cops to tighten screws this weekend
Scenes of deserted streets and shuttered buildings reminiscent of ghost towns, which dominated all of Western Jamaica last weekend, will be replicated this weekend as the security forces beef up their numbers on the streets in a zero-tolerance approach in enforcing the national lockdown, imposed by the government under the Disaster Risk Management Act, in a bid to stem the spike in Covid-19 cases across the island.
This follows what the police are saying was an isolated case in Hanover during which 34 persons were arrested at a party and a number of cars and motor bikes seized, subsequent to the lockdown period. The persons arrested in Hanover were among of a group of 120 arrested across the island for breaches of curfew orders last weekend.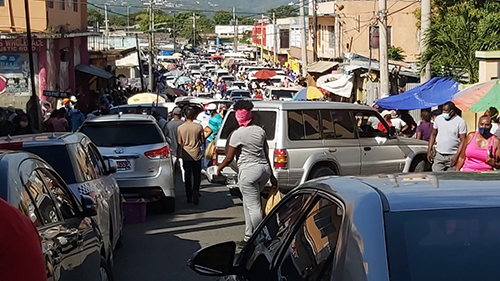 Clifford Blake, Assistant Commissioner of Police in charge of the Area One Police Division (Trelawny, St. James, Hanover and Westmoreland), says while last weekend went ahead with extremely high levels of compliance, with only a few minor hiccups, the security forces would be tightening the screws to ensure that the glitches are worked out for this coming weekend.
"We are looking forward to see how we can do better in what has been an almost perfect operation. However, we will see how best we can iron out the little kinks and those kinks have to do with persons who are moving about legally – persons at the airport, hotel workers -emergency service personnel who have been given the approval to move about; Church personnel who are going in to do their recording and all of that – we just have to work out those kinks," ACP Chamber explained.
He said additional personnel would be added to their numbers to further ensure compliance.
The Area One police head noted that there was a misunderstanding among some persons relating to the 12-midday closing time for businesses and the 8p.m. curfew time last weekend.
"Suffice it to say that policemen and women, who were in the space, were able to explain to the persons who ought to be on the road and the time when they should be – for the most part, there was compliance for all the respective areas," he said
HOLIDAY WEEKEND
Meanwhile, with the holiest days of the Christian calendar to be observed this weekend (Good Friday and Easter Sunday), ACP Chambers says he expects that the populace would treat the period with the veneration for which it has become known.
"We expect people to exercise the reverence that people generally observe this time of the year and at the same time giving credence to the disaster Risk Management Act and our own responsibility as law abiding citizens."
In the meantime, the authorities have advised hoteliers, especially those operating along the North Coast, not to book above 75 percent of their occupancy, citing that some entities had been secretly hosting parties, in defiance of the Disaster Risk Management Act, which forbids them to do so.