The community of New Market Oval commonly called 'Desta' in Westmoreland, remains on edge today following the controversial shooting death of 14-year-old Yuhimbe Brydson minutes into the New Year by members of a joint police military team. Brydson's 15-year-old cousin was also shot and wounded in the early Friday morning incident.
Brydson is a Grade Nine student of the Petersfield High School and is of a Ricketts Street address in the parish.
The Savanna-la-Mar police report that minutes after midnight several explosions sounding like gunshots were heard in the Desta area and a team of police and soldiers responded.
The police say upon their approach, they were fired upon and they returned the fire. Brydson, who was in the area, was later discovered with gunshot wounds and transported to the Savanna-la-Mar Public General Hospital where he was pronounced dead.
The matter has been reported to the Inspectorate and Professional Standards Oversight Bureau (IPROB) and the Independent Commission of Investigations (INDECOM), which have also launched probes into the incident.
However, residents of Desta are disputing the police's report as false and are demanding justice. A bonfire was lit in the middle of the road on Saturday by some residents who cited their anger at the security forces and claimed that Brydson was a not a trouble-maker and was not involved in wrongdoing.
Byrdson's elder brother, Nayo Brydson, says he will go to the full extent to ensure that the family receives justice for the killing of his younger brother and his mother's last child.
BROTHER'S ACCOUNT
"Why all the time they use the same alibi eeh? Nobody shot at them. A new year and people a celebrate suh gunshot fire but a nu nobody yah suh. The people were here gathering and joining hands, glad fi see the New Year and was about fi pray. It is a usual thing every year, when dem look and see this group a man a come up the road, at first dem tink an gunman suh dem start go back innna dem yard but dem realize say a police an soldier suh dem come back out. So as soon as dem come back out, some soldier come roun' and unleash one barrage a gunshot in an innocent crowd and dem shoot Yuhimbe and his cousin, a 15-year-old yute."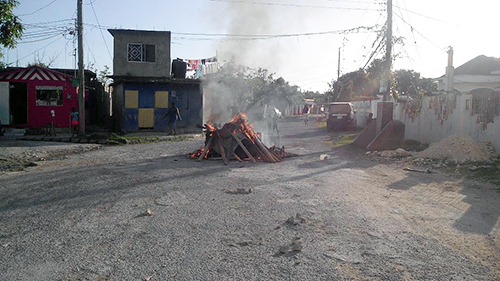 Brydson's mother, Bishop Cheryl Campbell of the Sacred Heart Spiritual Church of Jesus Christ International, who spoke through tears, says she wants justice for her last child who would be home by 7 o'clock every night and was not involved in any criminal activities.
"All mi want is to see him a come through the gate and every time mi a look out deh so a him mi a look fah. Mi waan fi see him a come. Every night we sleep together in the same bed. Mi woulda call him to come home but because of the New Year and the fact that he was somewhere close to home, I gave him some leeway. He was not a bad child."
Bishop Kevaughn Reid, also from the Sacred Heart Church, says the members are feeling it because he was an active part of the Sunday school. "He grew up in the church so he is like our child also."
Principal of Petersfield High Roan Green says the school community is in deep sorrow as teachers and classmates are still smarting from the untimely death of Brydson who was doing well in class and played for the school's under 14 football team.