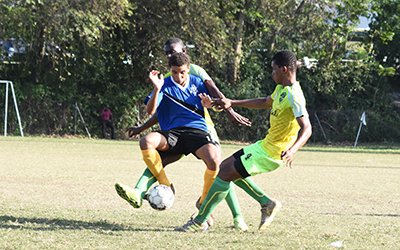 Noelita Lawrence-Ricketts – Staff Reporter
Six battling teams including last year's beaten finalists, Cambridge, will be in action over the next two days, Wednesday and Thursday, as the action and push for points intensifY in the St. James FA/Sandals Resorts International Major Football League.
A heavyweight affair highlights the two matches set for Thursday, February 13, in which Cambridge, still searching for their first win and really struggling to get going, are scheduled to be involved in a showdown with Montego Bay Boys' and Girls' Club (MBBGC) at the UDC field starting at 3 p.m.
Cambridge, semi-finalists for the past three seasons and overwhelming favourites last year before choking in the grand finale, have already suffered defeat and with two drawn results, hold just two points going into the expected epic fixture.
However, the red-and-white-clad Cambridge, admired for their brand of passing football at lightning pace, know they will have to be at their best when they take to the field against a rejuvenated Boys' Club team, which has marked off two wins from their last outings after opening the season with defeat.
Boys' Club sit second in the zone with 6 points, three adrift of the pacesetters.
Elsewhere, Somerton, who won last time out, engage battling and aging Melbourne in Somerton, both searching and in need of three precious points.
Both are in mid-pack of the standings each with four points a receipt for attacking and exciting football.
The action swings into gear later today, Wednesday, February 12, with former champions, Violet Kickers, meeting Fire House.
Promoted Fire House have just one win so far, but have been showing good form and holding their own, one of only two teams yet to taste defeat. Melbourne, meanwhile, have been defeated.
HEIGHTS DAZZLE
Meanwhile, Heights' impeccable form continued on Monday afternoon following their 3-1 triumph over tottering Bogue at the UDC field in a thrilling encounter, collecting a fourth straight victory.
Slow but tricky and full of skills, striker Anthony Gooden, getting his second successive start, banged in a double while Ricardo Wilson added the other, opening the scoring.
Wilson, formerly of Cornwall College, opened the scoring with a strike from just outside the 18-yard box, striking an unstoppable shot into the back of the net, this after just seven minutes.
After several attacks, Bogue got a break through in the 29th minute when they converted a penalty, lashing in to the right of the goalkeeper, through the wily Sanjay Patterson.
However, Gooden restored Heights' one-goal lead when he capitalized on a defensive error to tap in from close range midway the opening 45 minutes.
The win was then sealed in the 76th minute when Gooden again found himself unmarked inside the penalty area. This time he swept home, getting on the end of a wonderful delivery from the roving Kamali Powell.