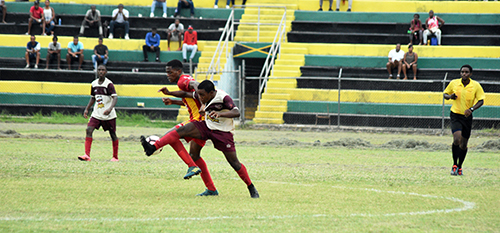 Noelita Lawrence-Ricketts
With the jostling for points now on in earnest, Manning's can become the latest western qualifier to the Inter Zone round of the ISSA/WATA Schoolboy Football Competition with three points away to Maud McLeod in Zone 'D' action.
Manning's, already with five victories under their belt, will be aiming for a repeat of their first round win and complete the double over their second-from-bottom opponents, Maud McLeod, as they take aim at a place in the round of 32.
Defending champions Clarendon College are the other early qualifiers.
The Westmoreland-based Manning's, have 16 points going into the fixture against the much-improved Maud McLeod, and will also be hoping to maintain their unbeaten record in the competition.
Elsewhere in the Zone, last year's beaten semi-finalists, Petersfield, also among the top performers, will aim to move closer to qualification when they tangle with Grange Hill, positioned fourth and with just two wins to their credit.
In another game, out-of-contention 2005 champions, Godfrey Stewart, face a tricky 90 minutes against a Belmont Academy team which has already claimed a historic two wins.
Meanwhile, last year's beaten finalists and 12 times champions, Cornwall College, will be aiming for a return to winning ways when they line up at home Irwin in one of three games on in the very competitive Zone 'A'.
Cornwall were on the receiving end of a shock 1-0 beating last time out and with just a goal separating them from second place Anchovy and a mere point between them and third place St. James, a victory is vital.
Irwin showcased a resilient display against the red and gold-clad Cornwall in the teams' opening game of the competition, but with the fancied CC severely wounded, they could prove deadly, but must be lethal in-front of goal.
Irwin, however, are on a high as they recorded a first win last time out and with the hopes of only a second ever win over CC at the forefront of their minds, a very competitive encounter is likely to unfold at the Pleasant Hill-based Cornwall school.
Also on the day, Anchovy, who missed the chance to go top, face a high riding St. James High at Jarrett Park.
Anchovy clipped the ex-champions 1-0 in their first meeting, but with St. James High on a charge, dropping just two points from their last three outings, bagging seven from a possible 9, a feisty affair is expected between the two as both will be trumping for the vital win.
The 2012 Inter Zone qualifiers Green Pond High, still in with a mathematical chance of making progress, will also be on the hunt for vital points in an away fixture against the winless cellar dwellers, Maldon at that school.
Green Pond hammered the said opponents 5-1in the first meeting and will be aiming for a repeat of that performance if they are to maintain their slim, but fast fading hopes of progress.
27 other matches are also listed to be competed on the day.