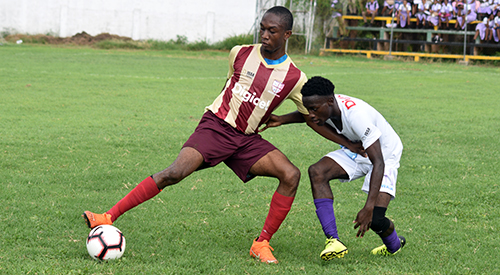 Noelita Lawrence-Ricketts
With schools beginning the jostle for points and positioning in their respective zones, increased action in the ISSA/WATA da'Costa Cup Schoolboy Football Competition continues tomorrow (Tuesday, September, 17) with another five games down to be contested.
Two of the five matches will be on in the west and will see the closely contested Zone 'C' in action, three days after their weekend fixtures.
Former two times champions Herbert Morrison Technical High (HMTHS), bidding for a return to the Inter Zone round, will take aim at maintaining a solid start to the campaign when they play their play their second away game.
'Compre' have already tasted defeat and will be bidding to avoid another as they try to keep their noses in front when they line-up against lowly Holland High, yet to tick a win.
Holland have been struggling since the back end of last season and with several of their more seasoned players absent from the team, less effectiveness is expected from coach Dane Randall.
Holland has managed just two goals in three outings and Randall bemoaned the team's lack of finishing. "Though we are not as strong as we should have been due to setbacks, we have not been taking the chances we are creating, and, that mainly has been our letdown."
"Without dominating our opponents, we have carved out chances, many of which, if taken, could have put us back in games or even earned us a point, and that is something we must rectify going into this home match, Randall said.
Holland, who will be playing back-to-back home games, were beaten 1-0 in their last game by Spot Valley.
They were left idle on Saturday, with Muschett having withdrawn.
Elsewhere in the zone, unpredictable William Knibb, gunning for another victory, face-off with Cedric Titus in what should be a very competitive match.
Knibb hit four in their first game against a lowly opponent, but will be tested by their visitors who possess speed on the frontline.
Both Knibb and Cedric Titus, who dominated the zone last year, are hovering mid-pack and will be desperate to get vital points as they plot their climb up the standings.
Zone 'F' is also down to be active with Belair at home to May Day; Mile Gully opposing B.B. Coke and Decarteret College engaging former semi-finalists Manchester High.
All games are scheduled to go off at 3:30 p.m.