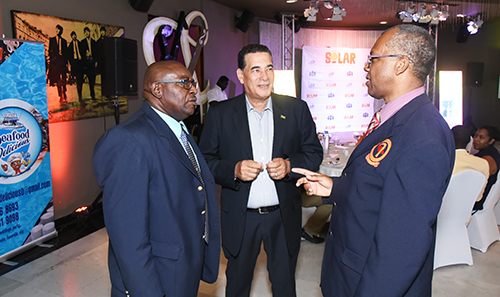 Breakfast Party aims to raise millions for CRH
The organizers of Solar All-Inclusive Breakfast Party are doubling their efforts for the sixth edition of the event with a view of surpassing the one-million-dollar donation made to Cornwall Regional Hospital from the last staging.
Solar All-Inclusive Breakfast Party was conceptualized under the theme 'Let's Rave for Charity', and is now one of the leading donors to the We Care for Cornwall Regional Hospital initiative, with some $2.5-million in donations since inception.
The Antidote Entertainment produced event has seen tremendous growth since inception in 2016 and plans are already set for two remaining stagings this year. Through this increase and a move to get more sponsorship, as well as the general citizenry involved, the organizers are looking to generate more funding for the beleaguered hospital.
At a media launch of the event on Thursday at Iberostar Rose Hall Resort, Kareem Jennings, Director of Antidote Entertainment, said they were moving to create more awareness for the event and the impact it has had in providing assistance for Cornwall Regional Hospital. "Through the support of our patrons, the donations have been used to acquire critical medical supplies and renovations to sections of the facility. The needs of the hospital have increased, and we are planning on playing a greater role in this effort to improve the facility. The state of the hospital – the only Type A medical facility in Western Jamaica, is a troubling issue and we believe that as much as we can connect with the government, partner with Corporate Jamaica and get more persons behind the effort, greater impact can be created," stated Jennings.
He said the move to engage as many stakeholders is part of an overall plan that will also see the event being staged for the first time in Kingston in November of this year. We are appealing to sponsors to come on board and assist this initiative and we are looking to partner with other persons or organizations that are interested in doing other projects to aid the hospital," Jennings added.
Solar All-Inclusive Breakfast Party is set for Sunday, August 18, 2019 at Tropical Bliss Beach in Montego Bay.