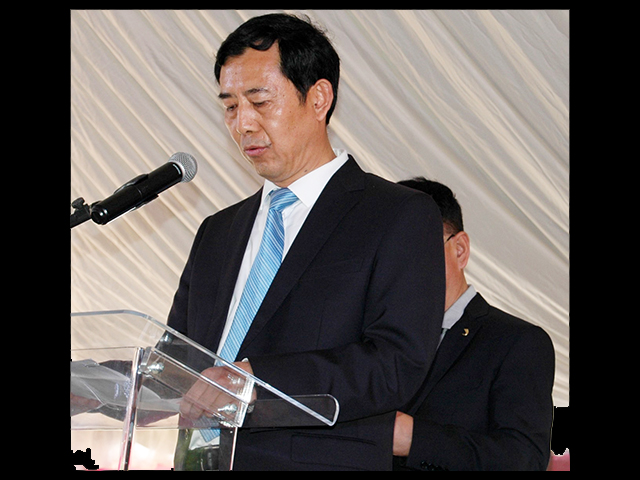 Clinton Pickering – Freelance Writer
Henan Fifth Construction Group (HFC), the Chinese firm that has taken on the $8.4 billion housing development at Rhyne Park Estate in Montego Bay, has publicly made commitments not heard before from any developer.
Its promises are supported by certification for high standards, innovation, quality of work, timely delivery of projects undertaken and adherence to costs.
General Manager of HFC, Baoguo Chen, spelt out six promises at last Friday's ground-breaking ceremony for the 754 houses and apartments the Chinese company will be building over the next three years.
The first promise is "to keep the value of quality, integrity and win-win cooperation." The company will be introducing a performance excellence model and international management standards. "Besides, standardization and lean management will also be stressed in the whole construction period for the quality housing solutions," he said.
As seen in major projects undertaken globally, HFC says advanced technology and techniques will be applied to guarantee construction quality and improve efficiency.
Mr Chen has promised that all staff will be motivated to have the project completed as scheduled and "local ecological environment will be strictly protected" throughout construction as required by the government of Jamaica and set out by NEPA in its approval of the development on July 16, this year.
Against the background of concerns raised from time to time about the ratio of local labour to that of imported labour on projects being developed by the Chinese locally, Mr Chen promised that in keeping with an agreement "we will use more than 70 percent of Jamaican labour to participate in the construction."
HFC says it wants to promote job creation and the development of the local construction industry. Mr Chen says his company "wishes to stay here for a long period of time" and cooperate with the Ministry of Housing and the Housing Agency of Jamaica (HAJ) to continue providing affordable quality housing solution for the people.
He says he HFC team sees Jamaica as "a very beautiful country; its people are friendly and hardworking" and wants to be here for a long time because they have been touched and fascinated by its culture and scenery.