Rashaun Stewart – Summer Intern
On Thursday, June 18, 2019, an appreciation ceremony designed to commemorate the vibrant legacy of achievements and contributions of Hubert F. Smith, former principal of Vaughnsfield Primary and Anchovy High Schools, was held.
A group of alumni from Vaughnsfield Primary School convened for the ceremony, with members of his family and several well-wishers also in attendance. The programme memorialized his eight-year tenure as principal of the Flamstead-based primary school and other accomplishments over the years.
Fondly referred to as 'HF', the inimitable principal was the subject of many kind remarks and expressions of gratitude. The gathered attendees reflected fondly on the memories of their tenures at Vaughnsfield Primary and the interactions that they had with Smith. They remarked on his stern, yet amiable nature and his desire to constantly impart wisdom and advice to all who fell under his sphere of influence.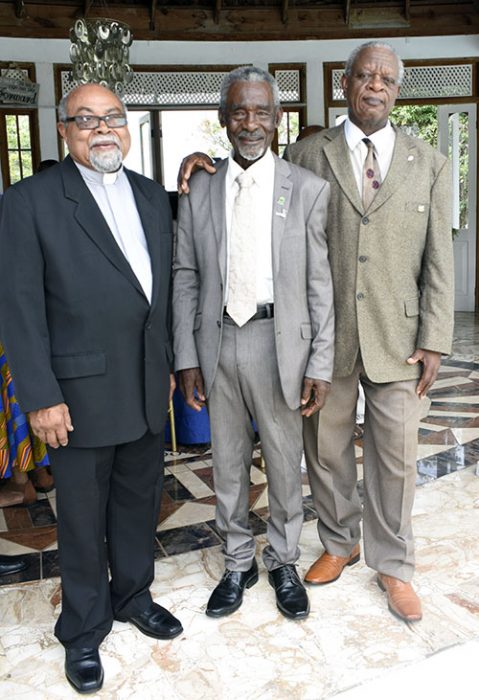 The master of ceremonies, Lance Duhaney, affirmed that Smith was a singularly unique individual who sought to inculcate key principles and values into the students he guided. He added that Smith served as a mentor to him and that he followed in his footsteps, eventually developing a close-knit, familial bond with him.
Smith also served as the principal of Anchovy High School, where his proclivity for distinguished service led to him wreaking positive change at the institution. Duhaney affirmed that he emulated Smith in this regard as well, moving from his occupation at the time to become a member of staff at Anchovy High during Smith's tenure.
In addition to his tenures as principal, Smith was endowed with responsibilities as a Justice of the Peace and still serves in that capacity. He also was a recipient of the Governor General's Award for his years of distinguished service as an educator and a community developer. He was also the recipient of awards from the Jamaica Teachers' Association in recognition of his service.
LASTING IMPRESSIONS
The ceremony was filled with levity and humour as the individuals gathered hailed Smith as a visionary and "the best principal" across the nation. His contributions went far beyond the call of duty and even extended to encompass the entire community of Flamstead in scope. The attendees hailed his "vim, vitality and vigor" as hallmarks of his tenure as principal and affirmed that he made lasting impressions on them.
Smith's marriage was also a topical issue addressed during the ceremony. He has been married to his wife, Elmine Smith, for fifty-three years as of this year. The decades-long marriage was hailed as a testament to Smith's commitment and the unparalleled levels of affection that he has for those around him. Additionally, the attendees commended Elmine for her steadfast support and the unparalleled goodwill that she has for all the individuals who she interacted with.
The union produced four children, two of whom were present at the ceremony. The absence of his other two children was due to extenuating circumstances that were unfortunately unavoidable. They nonetheless sent their regards and blessings for their family.