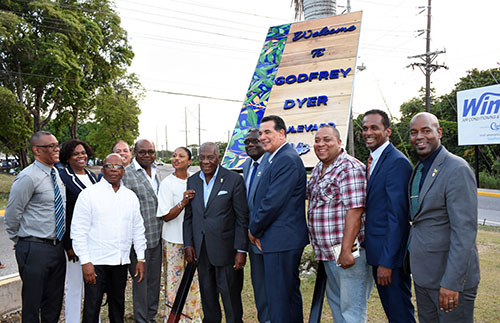 Barrington Flemming – Staff Reporter
Godfrey Glengoffe Dyer, Montego Bay businessman and philanthropist, had another accolade added to his collection when on Friday his name was further etched in the annals of Jamaican history with the renaming of the Sunset Boulevard to the Godfrey Dyer Boulevard.
Dyer, who had previously received The Order of Jamaica and the Order of Distinction Commander Class for his work in tourism and altruism, and now serves as Chairman of the Tourism Enhancement Fund, was conferred with the honour by the St. James Municipal Corporation in a renaming ceremony held at the Sangster International Airport round-about last Friday.
Dyer also served as Kiwanis President and Lieutenant Governor of Jamaica and Grand Cayman, as well as Governor of Eastern Canada and the Caribbean and President of Kiwanis International Foundation, the first and only Jamaican to date to have done so.
Homer Davis, Chairman of the St. James Municipal Corporation and Mayor of Montego Bay, in bringing greetings, hailed Dyer as an extraordinary ambassador for St. James and Jamaica, whose impact was far reaching extending worldwide. He cited that the decision to rename Sunset Boulevard in Dyer's honour was met with unanimous approval from all 17 councillors spanning the political divide of the corporation.
"This is an occasion for the people of St. James to say thank you to a man for all seasons whose life story should be shared and what better way to honour him by naming this street so close to the Caribbean's greatest gateway. His name should be etched among the greats from all sectors of the society."
FATHER OF THE CITY
Bishop Conrad Pitkin, Custos of St. James, in his remarks, lauded Dyer for being an outstanding leader and a father of the city of Montego Bay, serving twice as leader of the Jamaica Hotel and Tourist Association, twice as President of the Montego Bay Chamber of Commerce and Industry, a founding Member of Reggae Sumfest and a high achiever.
"Mr. Dyer is a tourism stalwart, whose tremendous accomplishment and contribution have helped to build this great parish and kept tourism alive. This naming of the boulevard is a visual representation of a great leader. This major honour is but one way to ensure that his legacy is shared for generations to come," he said.
Tourism Minister, Edmund Bartlett, keynote speaker at the event, citing that Dyer was deserving of the accolade, said his excellent record of service sets him apart.
"There could be no doubt at the St. James Municipal Corporation to rename this Sunset Boulevard meets any criteria that could be laid down. He is most deserving of the honour," he said.
In his response, Dyer said he fell in love with Montego Bay at age 15 when he visited on a church excursion, and was posted to work here in 1963 after his enlistment in the Jamaica Constabulary Force.
He left the JCF in 1972 and engaged in a number of business ventures to include villa management, general insurance, hotel operation, housing development among other ventures.
"All these awards were somehow at the back of my mind. I felt one day maybe I would get them. But today it has never crossed my mind that a street could be named after me. It never crossed my mind," Dyer said.