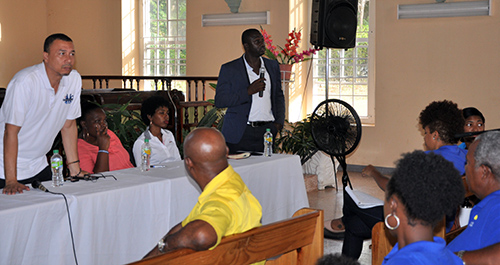 Councillors Mark McGann and Anthony Murray, representing the Somerton and Rose Hall Divisions respectively at the St. James Municipal Corporation, have declared that going forward, serious attention will be given to resolving the infrastructural challenges being faced by citizens in the divisions.
Both Councillors were addressing a community meeting at the Bethtephil Baptist Church in Chatham, St. James on Sunday, June 30, where residents were given an opportunity to speak freely on challenges they have been experiencing. Councillors McGann and Murray affirmed their commitment to addressing the challenges which include poor road conditions, inadequate water supply and insufficient street lights.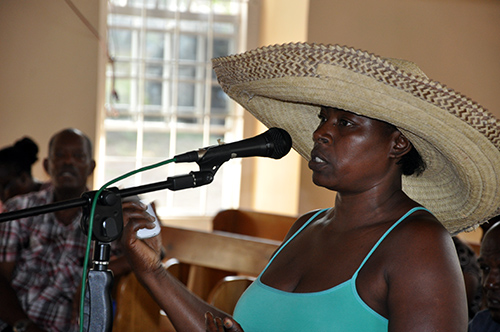 "There is work currently being undertaken as we continue to strengthen partnership with the relevant agencies to find practical real-time solutions," declared Councillor McGann, adding that "although the area suffers badly from drought and inadequate water supply due to outstanding pipe repairs, I continue to work closely with NWC to have certified trucks supply residents with water."
Councillor McGann further informed that, "A major step to upgrade the water supply systems in the area has already been taken with plans being put in place for the installation of new pumps and we have already installed a number of tanks. The trucking of water is only a temporary alternative to ensure residents have water for sanitary convenience while we work on permanent solutions."
Meanwhile, Councillor Murray reiterated that the challenges with water in his division are being addressed in a similar manner, pointing out that the trucking of water remains the main alternative.
PRIORITY
He further reassured residents that road repairs and replacement of street lights in his division continue to be a priority as "4.5 million dollars have been allocated for repairing roads in Retirement and surrounding areas and an additional 4 million for Chatham. We also continue to liaise with Jamaica Public Service Company who continues to fix and replace a number of streetlights in phases".
The NSWMA and St. James Health Department, Social Development Commission, Environmental Solutions Limited, the Jamaica Public Service Company, the Adelphi Police and the Jamaica Red Cross all played their part at the forum by addressing the residents pertaining to their respective portfolios.
These include proper garbage collection, health-related concerns, disaster preparedness, security awareness, the fixing of street lights across the divisions, the impact of the development of the Closed Harbour Beach in Montego Bay, and the support for social interventions in the communities.
The St. James Municipal Corporation's Community Empowerment Forum is geared towards facilitating communication between the citizens of the parish and their Local Authority, and other agencies whose activities impact the lives of the public.