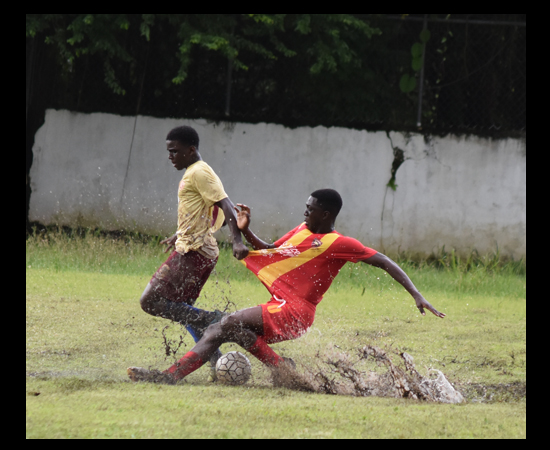 Noelita Lawrence
Rivals Cornwall College and Herbert Morrison Technical High shared the honours as action got underway in the ISSA/FRESHH Rural Under 14, Under-16 Schoolboy Football Competitions at the start of the weekend.
CC marked the first  victory between the two  in the Under-14 section, making a  winning  start  to  the  defense of their All-Island crown with a  narrow 1-0 triumph, while 'Herbie' earned  a share of the spoils with a business-like 2-0 blanking of their old foes in the Under-16 Division.
Giovanni Bruce netted the vital goal for the CC team in the Under-14 section, while it was Devrow McKenzie and Rahiem Heaven who netted for 'Herbie' in their victory.
SHAKY START
Defending champions CC made a less than-ideal start to the defense of the crown and failed to get out of first gear, as they played to break the deadlock in the first half of the scrappy contest.
The bustling Bruce broke the deadlock early in the second half when he capitalized on a defensive lapse, robbing his marker of the ball before advancing three steps to rifle a ball into the back of the net.
'Herbie' played in spurts and offered little in the attacking third, but it was  the guests, Cornwall, who managed the  muddy underfoot conditions to pull off the win  over their  hosts.
U-16 SHOWDOWN
Meanwhile, it was all 'Herbie' in the Under-16 clash as the hosts dominated their opponents in all areas of the field.
McKenzie sent the maroon and creamclad Bogue-based school ahead when he lashed in a ball, getting on the end of a defense splitting pass.
Heaven quickly made it 2-0 with a well-taken goal.
Elsewhere, St. James High recorded double victory away to Maldon.
St. James High recorded the widest margin of victory in the Under-14 section, slamming Maldon 6-0 but shared the points in the Under-16 match-up after being held 1-1.
Green Pond, who just missed the Under-16 semi-final last year by a single point, ran over late-arriving Spot Valley 2-1, while the Under-14 match was not played as no team arrived.
The teams will be back in action on Tuesday with Cornwall at home to Maldon; St. James High entertaining Green Pond and Spot Valley at home to Herbert Morrison Technical High.
The competition started on Friday and saw Irwin running out impressive 5-1 winners over Cambridge in the Under-16 encounter.
The Under-14 match w as called off as Cambridge arrived a t the venue without ID's.
Zone 'B' action returns to  the  field  later  today with Knockalva meeting  Irwin at  home; Hopewell travelling  to Cambridge and Anchovy hosting Rusea's.
All games begin at 1:45 p.m.